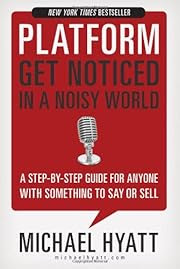 When I first picked up Michael Hyatt's book, PLATFORM: Get Noticed in a Noisy World, my first thought was, "Darn it, Michael, you beat me to it!" But then as I read and finished his book, I discovered it's an awesome compliment to my book, 7 Marketing Success Strategies for the Online Entrepreneur. I'll get into the reasons and some of the nuggets in his book in a moment, but first let me summarize his book for you.
Michael brings years of publishing and blogging experience into a very cohesive, easy to understand and implement strategy for any business owner or aspiring entrepreneur. He not only covers similar strategies to what I have written on blogging, social media and branding, but he pulls them together into a definition of why you want to create your own cohesive plan or Platform.
Mr. Hyatt describes it this way:
"The platform itself is a metaphor for the state on which you are elevated above the crowd. It makes it possible for everyone in the audience to see you. This is especially important in our noisy world, where more and more people and organizations are screaming for your attention."
He captures the details in 3 specific areas: visibility, amplification and connection. In other words, it is the place from which you define and promote your product or services through a cohesive brand with a unified message. He's put a neat little bow around many of the elements I recommend that all businesses consider: blogging, tweeting, Facebook marketing, self promotion and more. I like the way Mr. Hyatt pulls it all together and…
Here are the top 5 nuggets that I found to be most helpful:
"Connect with what is at stake: Before you can find your way, you must discover your why. Why is this goal important to you? What will achieving it make possible? What is at stake if you don't? What will you have to give up in order to achieve it? Your rationale provides the intellectual and emotional power to keep going when the path become difficult."
Answering the above questions before you begin and along your journey, will set you up for greater success.
"Create an elevator pitch: As important as the elevator speech was in past years, it's become more crucial to get it right online, where you have even less time to grab the attention of a potential customer than you would have in an actual elevator. Most people's focused attention span – the kind that is a short term response to stimulus – is very brief, with a maximum span, without any lapse at all, as short as eight seconds."
In other words, can you capture their interest in a 140 character tweet or a 30 second read of a Facebook post?
"The heart of our home base is our blog: It's where our best thinking lives, the place where others can comment and interact with us, the nexus of our social network. People will only trust you if you are willing to pull back the curtain of your life and give them a peek inside. You must be willing to share yourself."
"Blogging and Tweeting are a dialogue. You get to introduce the topic and moderate it, but you are expected to participate in the ongoing conversation." Writing frequently each week keeps an interaction stream flowing on your website which can also spill into Twitter and Facebook, not to mention the fresh SEO benefits you gain with each post.
"Don't write off Twitter: Twitter offers an unparalleled opportunity for brand building, social networking, and customer engagement." Don't try to cheat the system and create a strategic approach using time management techniques which prevent you from being "sucked in." Use Twitter to build a following, increase your social authority, promote your products and engage your connections.
"Defend your brand: It takes years to build a brand. Unfortunately, there aren't many short-cuts. You build a brand – like a reputation – one impression at a time. Every encounter with a customer results in either a 'deposit' or a 'withdrawal' in your 'brand account.'" Therefore, it's key to build your audience before you need it. Monitor your conversations and don't run from criticism or controversy. Admit your mistakes, understand the value of a lifetime customer and exceed your customer's expectations. Yes, even online!
Obviously, these are just tips of a bigger picture and there were hundreds more key points that I could share with you from Michael's book. In order to do that, I would, essentially, have to duplicate all that he has already written so well. Therefore, I will stop at these top 5 nuggets and recommend that you get your own copy to discover the secrets held within the cover. Keep a highlighter on hand as this book is full of timeless application I expect you will want to refer to over and over again.
Just for the record, I do not know Mr. Hyatt and he is not paying me to promote his book. In fact, I purchased my own copy at the suggestion of my mentor. I'm merely passing along a perspective on the value I received by reading it. I welcome your feedback and would love to learn your thoughts about PLATFORM: Get Noticed in a Noisy World. Please take a moment to comment below; thank you and… Here's to your success!
Disclosure of Material Connection: Some of the links in the post above are "affiliate links." This means if you click on the link and purchase the item, I will receive an affiliate commission. Regardless, I only recommend products or services I use personally and believe will add value to my readers. I am disclosing this in accordance with the Federal Trade Commission's 16 CFR, Part 255: Guides Concerning the Use of Endorsements and Testimonials in Advertising."